Business Intelligence tools are designed to help enterprise staff understand all the complex data they have to work with every day. But how do you know which BI tools are right to help you achieve your goals and why use them? In the following article we will tell you.
What is a Business Intelligence (BI) tool?
BI tools or platforms are software that you can use to collect past, future, and current data, and then process and analyze it. It does this to generate useful information, create interactive reports, simplify decision making for your business and many other functions.
The platform comes packed with key features, including Data Visualization, KPI Dashboard, visual analytics and interactive dashboards. Apart from that, this tool also allows you to take advantage of automated reports along with predictive analytics to understand future trends.
Top 10 Best Business Intelligence Tools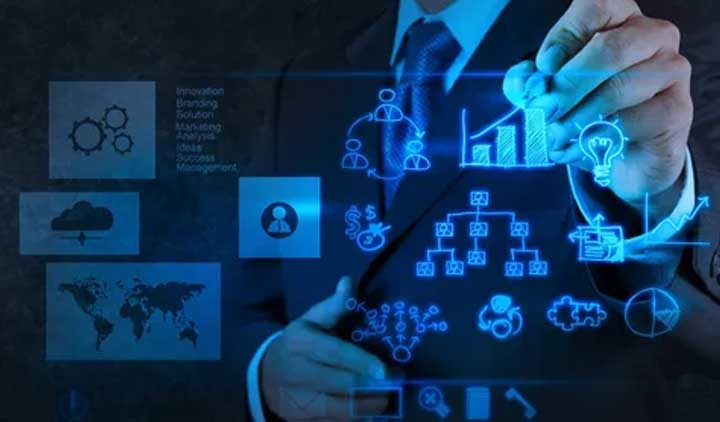 Now yes, it's time to find out the most used Business Intelligence tools in the sector, do you want to find out? Proceed!
1. PowerBI
Power BI is not just a Business Intelligence tool. It is a business analytics service from Microsoft that aims to provide interactive visualization and business intelligence capabilities with an interface that is simple enough for end users to create their own reports and dashboards.
2. Tableau
Tableau is our second Business Intelligence tool, a business intelligence and analytics software. Its primary service is the development of interactive data visualization products focused on business intelligence.
3. QlikView
QlikView is another must-have Business Intelligence software that combines all the data, helps to create reports and get business insights quickly. Moreover, the information can be exported in excel format. This includes data integration, user-based business intelligence, and conversation analytics.
4. SAPBI
SAP BI is Business Intelligence software, a business intelligence technology with which you can share strategic information and make better decisions with the SAP Business Objects Business Intelligence (BI) package.
Your analytics platform can support your users and from a single tool to multiple tools and interfaces. This tool has on-site implementation, real-time Business Intelligence, and provides greater user autonomy.
5. Pentaho
Pentaho is a free suite of programs for generating business intelligence. Includes built-in tools for reporting, data mining, ETL, etc.
These tools allow you to simplify data operations and democratize access to information for all stakeholders in your enterprise, with policy-driven automation and metadata-driven data management.
6. Micro Strategy
MicroStrategy Workstation provides what you need to access, visualize and analyze your data for free and without a license key. No trial version. It also offers fast and flexible analytics to help maximize data impact, while laying the foundations for a data-driven future.
7. SAS Business Intelligence
SAS Business Intelligence helps users have the right information for whoever needs it, integrate it, and find data for themselves. Plus, with this tool you can share interactive reports and review analytics that are easy to use.
8. Taste
Sisense is an analytical tool that makes it easy to prepare, analyze, and explore growing data from multiple sources.
The main functions of these BI tools help simplify data analysis and unlock data from the cloud so that everyone can analyze data and produce better results. Plus, it's perfect for building personalized experiences and automating multi-step actions to speed up workflows.
9.Oracle BI
Oracle BI is a Business Intelligence tools platform that enables you to simplify your analytics strategy through a modern, integrated platform.
These tools help people across organizations make faster, more informed, mobile-enabled business decisions. Additionally, the platform supports today's industry-leading cloud analytics release, Oracle Analytics.
10. Zoho Analytics
Zoho Analytics is a business intelligence, reporting and data analysis software that enables you to visually analyze data and find insights in minutes.
Large amounts of raw data can be turned into reports with this tool. Plus, you can track key business metrics, review past trends, identify outliers and uncover hidden information.
Why Use Business Intelligence Tools?
First, data discovery, which was once confined to the expertise of advanced analytics specialists, is now something anyone can do using these tools.
Not only that, but these tools give you the insights you need to achieve things like growth, solving pressing problems, gathering all your data in one place, forecasting future results, and much more. proceed!
Benefits of BI tools
It brings together all the relevant data from multiple endpoints like portals, CRM, ERP, databases, flat files, APIs, etc.
Help businesses build self-service analytics without any IT support. It is because these tools make things clear and concise so that users can easily understand them. They can then easily generate reasonable reports and also run queries.
Predictive analytics can be achieved with this tool to form future decisions based on trends. If conditions change at a later stage or an anomaly occurs, you can receive intelligent alerts that help you react instantly.
Due to automation with BI tools, you can save time by using the drag and drop editor from your interactive dashboard.
Over time, you save your business expenses which are wasted due to inaccurate planning.
How Does a BI Tool Work?
The BI tool works in the following steps:
Data access and visualization
interact with them
Analyze and find important information that is useful for your business
Share that information with your team for further implementation
Promotion and management of valuable data to make better business decisions, along with future planning.
How Does BI Help Companies Understand Data?
The human brain is wired in such a way that it quickly picks up on visual triggers to fully immerse oneself in something. This is how we generally process data.
Simply put, when you look at pictures or graphs, it's easier for you to understand things than scrolling through endless text or spreadsheets. BI tools are built with these aspects of the human brain in mind.
The main goal of BI tools is to make data easy to capture so that users can make valuable information out of it.
Visualize data through charts, graphs, heatmaps, images, videos and infographics embedded in visualizations to help you better understand your data.
Summary
Data plays a very important role in shaping today's business. So it's up to you how you use the available data around you to make a better decision. This is why using business intelligence tools can greatly help you run your business with better planning and execution using detailed data.
If you need something lightweight, alternatively you can take advantage of Google Data Studio with this powerful data connector to visualize your data.
Have you tried any of these tools? Which do you prefer? Don't forget to share it and if data analytics is your forte, don't miss the Master in Business Intelligence with which you will learn to use the most important techniques and tools to derive business intelligence from data.
Read also: